You can book me for a studio session wired or in presence in your own studio.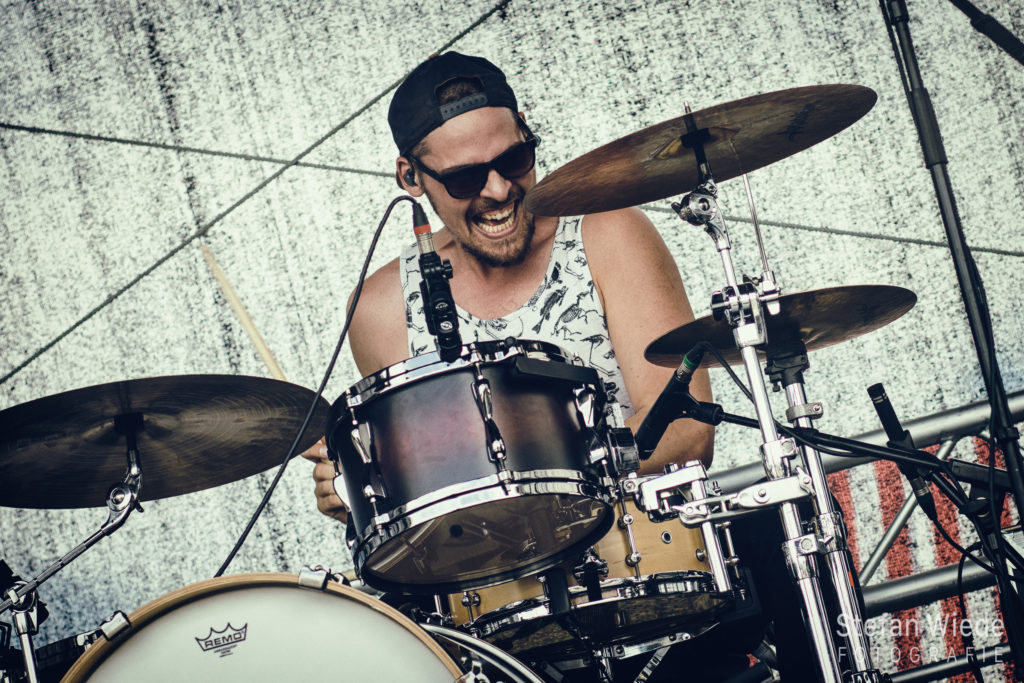 "Den meisten Schlagzeugern ist meiner Meinung nach nicht über den Weg zu trauen. Krach. Bum. Peng....am besten sind die "noch mehr Crash-Becken und doublebass - Typen" . J. Biegl ist da einer der anderen; fühlt sich musikalisch in einen Song ein und kann sich für diesen auch zurücknehmen. Sein Spiel ist für mich so im Kopf geblieben: weniger ist oft mehr - und dann am besten peppig tight! Mit Johannes zu arbeiten ist nicht nur aufgrund seiner lockeren Art angenehm. Er kann sich kreativ, ehrgeizig, zuverlässig, strukturiert und zielführend in ein Projekt einbringen und durch seine professionelle Art dem ganzen viel Kraft und Motivation bringen."
Sebastian Stramm
Germany
"Johannes was a terrific choice. He made my song come to life with live drums. He truly cares about you project and even set up a Zoom call so I can clearly express my requests. This was a major plus because we were able to bounce idea off on another in real time. Felt like was actually in the studio with him. 10/10 I highly recommend!!!"
Gyasi Clarke
Virgin Islands
"It was amazing to work with my guy here, we had a proper zoom meeting while working on this track and had a great time connecting with each other all the way from this side of the world!! The best ever!! Can't wait to work on more tracks soon.... cheers man.. thanks a mil!!"
Joseph Dinji
India
Johannes vereint all das, was ich an einem Schlagzeuger schätze und weshalb ich bedaure, selbst keiner zu sein: Virtuosität, Kreativität, Musikalität, Vielseitigkeit und guten Geschmack. Das Ganze würzt er mit einer großen Portion Sorgfalt und es bleiben keine Wünsche offen. Ich freue mich auf die hoffentlich noch sehr lange Zusammenarbeit.
Marc "Nobo" Stollreiter
Germany
Johannes is by far, one of the most technical, and precise drummers I've had the pleasure of working with. So much so, that I don't want to work with anyone else. Period. A lot of drummers can play covers and do a decent job, but Johannes makes it his own and makes it better. Writing with him however, that's where he truly blows EVERYONE away. His technical expertise and mastery of song structure truly bring out the musicality intended in my songs. He doesn't just put fills and rythym changes in the right places, he appropriately follows the lead guitar, lead Vox, or whatever instrumentation is flowing at that time and enhances what is happening musically. To be honest I don't want to tell you how good he is because I want to keep him entirely for myself!
Justin Prickett
USA
Johannes ist mehr als ein reiner Profi-Drummer! Er denkt sich zunächst in jeden einzelnen Song rein, was Spielweise, Aufbau und Intensität betrifft, bevor er sich an die Aufnahme begibt, das zum Schluss, aufgrund seines top ausgestatteten Equipments und großem Know-How zu einem großartigen Endergebnis führt. Nebenher, ist Johannes auch noch ein zuverlässiger und feiner Kerl, was die Zusammenarbeit sehr angenehm macht.
Neo Marks
Germany
Johannes hat mich mit seinem musikalischen Verständnis, seiner Vielseitigkeit und seiner Professionalität absolut überzeugt. Er hat genau das umgesetzt was ich mir vorgestellt habe und hat damit meine Musik sehr bereichert. Die ganze Prozedur, bis zum fertigen Produkt, lief sehr entspannt und unkompliziert ab. Das Interesse an meiner Musik und wie es klingen soll war sehr hoch und nach ein paar Videogesprächen mit Besprechungen und Demonstrationen, kam genau das raus was ich mir für meine Musik gewünscht hatte. Ich habe danach die Drum-Spuren in bester Qualität bekommen und konnte diese dann ganz einfach weiter bearbeiten. Ich kann Johannes jedem empfehlen der Live Drums oder Drums im Allgemeinen in seiner Produktion braucht .
Marcel Lauterborn
Germany
FREQUENTLY
ASKED 
QUESTIONS